HIGHER FUEL ECONOMY STANDARDS WILL INCREASE CLEAN DIESEL CAR & TRUCK CHOICES FOR CONSUMERS
"With new standards being developed to substantially increase fuel economy, the diesel engine will be even more attractive to drivers because of its high fuel efficiency that doesn't sacrifice performance."

– Allen Schaeffer, DTF Executive Director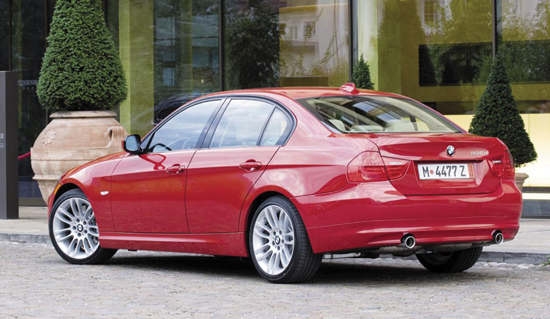 BMW 335d Sedan, Diesel Model

Frederick, MD – Allen Schaeffer, the executive director of the Diesel Technology Forum, issued the following statement on the Obama Administration's announcement that it was beginning the process of developing "tougher" greenhouse gas and fuel efficiency requirements for cars and light trucks for model years 2017 through 2025.


European Drivers Already Rely On Diesel Cars for Increased Fuel Efficiency

"Meeting the pending 'tougher' fuel efficiency targets will require many different solutions and we're more confident than ever that clean diesel technology is going to be one of those solutions. Only time will tell if the American consumer is ready for plug-in electric vehicles, but they are already telling us loud and clear today that they are ready for more clean diesel technology.

"In Europe, over 50 percent of all the automobiles on the streets today are diesel cars due to their high fuel efficiency, low emissions and long term durability. While a more modest three percent of cars and light trucks in America are diesel at this moment, these new fuel efficiency targets will dramatically increase the importance of clean diesel cars to U.S. drivers.
MTU EPA Tier 4i Compliant, SCR-Equipped MTU Series 906 Diesel Engine. (AP Photo/Kevin Wolf)


Diesel Car Sales Were Up A Whopping 52 Percent in August 2010 - In The U.S.

"Diesel car sales in August 2010 were up a whopping 52 percent from the previous August, and up by 20 percent over July 2010 highlighting American consumers growing recognition of the benefits of clean diesel technology as a new fuel efficient, economical choice with proven long-term value.

"Now more than ever, consumers are cautious with their automotive investment dollars looking more for long term value, performance and confidence, all of which they get with a diesel vehicle. The technology is proven and clean diesel fuel is now available alongside gasoline blends at more than half of all service stations throughout the country. In addition, the resale value of diesel vehicles has traditionally been higher than for comparable gasoline models. And there are still federal tax credits available for many diesel cars through the end of this year.

"Even with fewer choices for consumers, clean diesel car sales indicate a growing consumer acceptance. Today, U.S. consumers can choose from 14 cars, trucks or SUVs with a clean diesel engine compared to 34 choices of hybrid technologies. The next diesel entry into the U.S. market will be Mazda which announced earlier this year that its SKY-D clean diesel engine will be available here in the 2012 time frame as a new option in one or more vehicles.

"The national clean car program and the pending GHG and fuel efficiency standards will certainly make the diesel engine a much more attractive alternative in that it achieves higher fuel efficiency without sacrificing vehicle trade offs like size and performance.

"Clean diesel engines will allow manufacturers to continue to provide consumers with the full range of vehicles they want, from fuel efficient family sedans and crossover SUVs, to full size pickup trucks which continue to rank in the top five best selling vehicles in the U.S. – all this without sacrificing performance for fuel economy."
Mercedes-Benz ML 320 BlueTEC - 2009 Diesel Model

---
FACT SHEET

Notice of Intent Proposed Rulemaking to Establish Greenhouse Gas Emissions And Corporate Average Fuel Economy Standards For 2017 and Later Model Year Light duty Vehicles
National Highway Traffic Safety Administration (NHTSA)

Background:

In May of 2010, President Obama, in a Rose Garden Ceremony announced a new effort to propose greenhouse gas (GHG) and fuel efficiency standards for medium and heavy duty trucks and to begin the process for establishing further corporate average fuel economy (CAFÉ) standards for light duty vehicles. (Note—this fact sheet focuses only on the light duty vehicle aspects of this rule. A separate statement will be issued by DTF on the medium and heavy duty truck action.)


Why is this Administration Action important?

It begins the process to establish the future fuel economy and GHG emissions requirements of light duty cars and light trucks. Ultimately these policies will have a substantial impact on new vehicle design, fuels and operations in the 2017 and beyond timeframe.


Will the process require certain fuels and technologies should be used to meet the goals?

No. Typically, NHTSA will establish standards and conditions for manufacturers to meet. Each manufacturer will then make their own technology choices based on anticipated customer needs and their product lineups.




What are the likely strategies that manufacturers could use to meet higher fuel economy requirements in the future?

There are many variables and it is impossible to predict at this stage without knowing the fuel economy and GHG goals, conditions, testing requirements and other factors to determine with certainty which technologies can compete. Here are some of the most likely:



Downsizing and light-weighting of vehicles across the board will help reduce energy requirements.


Advancements in gasoline engines: Improvements in gasoline engines such as downsizing, turbo-charging and the use of direct injection will yield higher fuel economy.


Clean Diesel already delivers 30 percent more mpg than a comparable gasoline engine and can gain further efficiencies in the future.


Hybridization: Vehicles such as the upcoming Chevrolet Volt that has a downsized gasoline engine and an advanced hybrid powertrain with battery energy storage.


Increased use of electric motors for functions previously run by belts on the engine.


Plug-in Hybrid Electric vehicles powered exclusively by electricity.


What are Clean Diesels' leading attributes and why will they present a technological choice in meeting greenhouse gas emissions anticipated requirements?

Diesels offer an unmatched combination of fuel efficiency, reliability and durability.


How many diesel cars and trucks are available for consumers today?

Currently there are 14 models of light duty cars and light trucks and heavy-duty pick-up trucks available to consumers. Vehicle manufacturers include BMW, Ford, GM, Mercedes, Ram trucks, and VW.




What percent of the current market share do diesels have in the United States?

Diesels accounted for just under two percent of new car sales in the U.S. in 2009.


Are there new diesel products coming to the US?


What are the future market potentials?

All car and truck sales have been impacted by the recession of the last two years. However, these predictions highlight the range of confidence for more diesels coming to the U.S.


What about Europe; aren't diesels popular there?

Yes. Since 2004, diesels have consistently accounted for nearly 50 percent or more of all new passenger car registrations in Western Europe according to the European Automobile Manufacturers Association. Last year, diesel cars made up 45.9 percent of all new passenger registrations (13,665,782 units) in Western Europe.




What about diesel fuel? Is it as available as gasoline or do you have to go to a truck stop for filling?

2010 Freightliner Cascadia Day Cab with the Detroit Diesel DD13 engine and BlueTec 1-Box Emissions Control System

---
Diesel Fuel Poised to Play Expanded Role Meeting New Environmental & Energy Efficiency Requirements of Green Economy - New Hart Energy Report

"Because of diesel fuel's unique attributes, its energy density, low sulfur content, widespread availability and compatibility with biofuels, it is easy to recognize diesel's emergence as a leading fuel of the future." – Hart Energy Consulting

Washington, D.C. - With the United States moving to implement stronger environmental and fuel economy standards and expand the use of renewable fuels, clean diesel fuel is "poised to take on an even greater role in the U.S. transportation market" according to a newly released Hart Energy Consulting report.

"Diesel: Fueling the Future of a Green Economy" was released today by the Diesel Technology Forum in conjunction with the U.S. Department of Energy's 2010-2011 Winter Fuels Outlook Conference at the National Press Club. (To access the complete report go the DTF website.)

"While there has been a lot of speculation about the role of unproven energy technologies in the emerging green economy, this new analysis clearly highlights that clean diesel will play a vital role in the green economy both today and in the future generations of energy and transportation," said Allen Schaeffer, the executive director of the Diesel Technology Forum.


Diesel Market Growth Has Been International

"The growth in the diesel market has occurred throughout all regions of the world. Though not all areas have experienced substantial diesel penetration into the passenger vehicle market, growth in diesel demand has outpaced gasoline and other refined products in nearly all developing countries including China. Diesel fuel is the workhorse of economies throughout the world. As global economies have expanded, so has the demand for diesel fueled commercial transportation and industrial activities," according to the Hart report (p.7)

2009 Volkswagen Jetta TDI Clean Diesel

Diesel in the Clean Energy Spectrum

While there is much speculation on the transformation to energy sources like electric and natural gas vehicles, the report highlights diesel's significant role as both a current and future energy source.

"A search for secure, reliable energy supplies has led policy makers and industry to explore the use of new transportation fuels such as electricity and renewable fuels. Because of diesel fuel's unique attributes, its energy density, low-sulfur content, widespread availability and compatibility with biofuels, it is easy to recognize diesel's emergence as a leading fuel of the future," according to the Hart report (p.5).

"Diesel offers energy and environmental improvement without the need for development of an infrastructure to support the advanced technology. Diesel's unique capability to utilize a range of renewable fuels and blends enhances its desirability under emerging renewable fuel requirements." (p.27)


New Fuel Economy & Climate Policy Initiatives to Increase Demand for Diesel

The Hart report states that diesel fuels has been the largest growth petroleum product representing 20 percent of refined product demand increasing at an annual rate of 2.8 percent for the past five years. Hart says U.S. diesel demand is expected to increase 1.7 to 2.0 percent per year over the next decade driven largely by the heavy duty transportation sector and by pending fuel economy and climate policy initiatives that will increase diesel use among automobiles (p.27).

Also, the diesel industry is in the midst of implementing advanced engine and emissions control technology that will lower emissions from on road vehicles and no road machines and equipment by more than 98 percent compared to 2000 era technology, according to the report. With superior fuel economy of up to 35 percent above gasoline vehicles, diesel provides a strong option for meeting efficiency requirements while maintaining performance and power (p.27).
Duramax 6.6L Turbo Diesel 2010 Chevrolet Express full-size van


Refineries Increase Diesel Production; Gas Stations Expand Diesel Availability

In addition, Hart reports that the refining industry has made adjustments and plans additional investment designed to meet increased global and U.S. demand for diesel fuel. For example, two of the largest expansion projects in the history of the U.S. refining industry will incorporate capacity for maximizing diesel yield (p.28).

The report also highlighted another indicator of increased current and future diesel sales - the percentage of gas stations offering diesel fuel has increased from 35.4 percent in 1997 to 52.1 percent in 2007 (p.25)


Diesel Auto Sales Expected to Significantly Increase

In addition, the Hart report predicts sales of clean diesel automobiles in the United States to increase from just 2 percent in 2009 to 8.5 percent in 2020. The report notes that other independent projections forecast domestic diesel car sales to increase to 9 percent by 2013 (Ricardo) to 10-15 percent by 2015 (J.D. Power) (p.12-13).

"Fuel economy will be the primary factor in the future role for diesel in the U.S. light and medium duty vehicle markets," the report states. "Depending on the vehicle size and load diesel engines typically achieve 20% to 35% better mileage than gasoline vehicles of comparable size and performance." (p.12)

"The significant growth in diesel car sales forecast for the United States has already occurred in other regions of the world," said DTF's Allen Schaeffer. "The Hart report highlights that in the European market diesel car sales have increased from 32.1 percent in 2000 to an astounding 53.3 percent in 2007. The new emission and higher mileage standards mandated by the federal government will increase the importance of diesel autos for American drivers."

Additional information on the report findings and methodology can be obtained by contacting Liisa Kiuru at (713) 260-6474 and lkiuru@hartenergy.com.


ABOUT HART ENERGY CONSULTING
Hart Energy Consulting is a division of Hart Energy Publishing, LP, one of the world's largest energy industry publishers, with a diverse array of informational products for the worldwide energy industry. Headquartered in Houston, with offices in New York, London, Washington, Brussels, Bahrain, and Singapore, Hart Energy Publishing's market-leading publications include Oil and Gas Investor, E&P, FUEL and PipeLine & Gas Technology.


ABOUT THE DIESEL TECHNOLOGY FORUM

The Diesel Technology Forum is a non-profit national organization dedicated to raising awareness about the importance of diesel engines, fuel and technology. Forum members are leaders in clean diesel technology and represent the three key elements of the modern clean diesel system: advanced engines, vehicles and equipment, cleaner diesel fuel and emissions control systems. For more information visit www.dieselforum.org.
---
© 2013 TLC Magazine Online, Inc.