COMMISSIONER'S LETTER

By now, I think just about everyone in New York City has heard something about Mayor Michael R. Bloomberg's plans to make our city ready for the challenging years ahead. It is projected that by the year 2030 New York City will have almost one million more residents. In addition, we expect many more tourists to visit in the coming years due to the City's plan to attract 50 million visitors annually by the year 2015.
It is also projected that the city will attract hundreds of thousands of new jobs. This welcome influx will challenge every system the city has in place including the transportation network, energy grid, our air…..and even our climate which scientists predict will be irreversibly changed if we do not substantially reduce greenhouse gases by the middle of this century.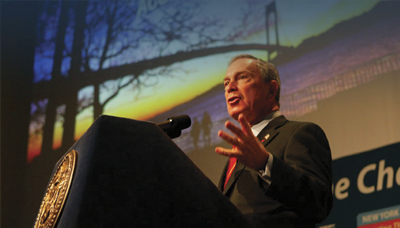 Mayor Michael R. Bloomberg announcing this groundbreaking
and far reaching initiative.

That is where PlaNYC comes in. The City, under the leadership and vision of Mayor Bloomberg and Deputy Mayor Dan Doctoroff, set forth a comprehensive urban blueprint for responsible, practical action that ensures a healthy and vibrant metropolis for decades to come.
Of the several challenges to be met, the Taxi and Limousine Commission (TLC) will assist in accomplishing several goals set forth in PlaNYC. One of the goals is for New York City to achieve the cleanest air quality of any city in the U.S., and a significant reduction in emissions by the year 2017.
It should first be understood that taxicabs account for 4% of all ground transportation C02 emissions and 1% of all city carbon dioxide or C02 emissions. This speaks very clearly to the taxicab and for-hire vehicle industries' role in PlaNYC – to reduce citywide C02 emissions by 0.5% while improving air quality.
How will we meet these goals? PlaNYC addresses the taxicab and for-hire vehicle (FHV) industries' impact on our city through several ambitious initiatives:
Sales Tax Exemptions for Clean Air Vehicles

As an incentive, New York City will introduce a sales tax waiver for the cleanest and most efficient vehicles out there – including hybrids.


Anti-Idling Technology for TLC Licensed Vehicles

We will find the most efficient way to end engine idling. Many taxicab and FHV drivers run their engines to keep air conditioning or heaters running. While there unfortunately is no technology yet that can keep air conditioners running satisfactorily without an idling engine there is new technology that makes it possible to heat a vehicle.

This year, with the help of the taxicab and FHV industries, the City will evaluate different types of technology and decide on a best option. Between the years 2008 and 2010, the City will use over $10 million in government funding to equip vehicles with the chosen technology.


Promoting More Fuel Efficient Vehicles for TLC Licensed Vehicles

The TLC will also be working to encourage automobile manufacturers and the taxicab industry to introduce vehicles that will help us eventually convert the entire licensed TLC fleet to more fuel efficient vehicles within eight to ten years.

Black cars and FHVs will be expected to ultimately achieve twice the fuel efficiency of today's non-hybrid vehicles. For instance, the conversion of the entire black car fleet to cleaner, greener vehicles within five years would result in a 50% decrease in C02.

As many black cars may have a "next life" as a livery vehicle the environmental investments made by the black car industry should pay dividends in the community car service industry as well.

Also, the TLC will work directly with livery bases, vehicle owners and other industry businesses to build greater awareness of the cost and public benefits of using cleaner vehicles for their businesses.


Congestion Pricing – Taxicabs and FHVs Exempt

PlaNYC's suggested three year pilot testing of congestion pricing has received a great amount of attention in the media, and features several aspects that will be of great interest to the taxicab and for-hire vehicle industries.

In brief, automobiles entering Manhattan below 86th Street 6 a.m. to 6 p.m. (Monday through Friday) - other than those exclusively using the FDR Drive, the Battery Park Underpass and/or Route 9A (West Street) - will pay a daily charge of $8 with E-ZPass users being credited for the round trip amount of any bridge and tunnel tolls paid for that day. Most importantly, for those reading this column, taxicabs and for-hire vehicles (FHVs) will be exempted.

The initiatives described in this column are a few parts of a comprehensive long term plan for a cleaner and sustainable City. PlaNYC can be viewed in its entirety at:

http://home2.nyc.gov/html/planyc2030/html/home/home.shtml.
The bottom line is this…..if you think you are helping people today with the work that you do just wait until your actions will have such citywide effects as preventing a child from having asthma, helping your family and neighbors breathe better than they have in many years as well as the global effect of helping play a part in affecting climate change while we still can!
I look forward to sharing more details about this exciting plan with you in the future……Exciting days are ahead!
Mayor Bloomberg presents "PlaNYC: A Greener, Greater New York" PlaNYC is the culmination of months of public meetings, feedback, and studies that have resulted in a set of proposed initiatives that will allow New York to meet the challenges faced as our population grows by nearly 1 million between now and 2030. PlaNYC will also allow us to meet the Mayor's goal of reducing greenhouse gas emissions by 30%. April 22, 2007

(Photo Credit: Edward Reed)


Watch the TLC web site at www.nyc.gov/taxi for updates, or to access monthly medallion price charts.
---
© 2015 TLC Magazine Online, Inc.